Wow, what an evening! Pink Skies had an amazing screening as the opening film for the Los Angeles Women's International Film Festival Friday night. It was the first time that we had screened on a full size theatre screen and that was quite a thrill. Close to 200 people turned out. Diana Means, the film festival director had included many wonderful touches. She had a very cool pre-screening reception for the filmmakers at the Burke Williams Spa just below the theater. It was a nice opportunity to meet and greet with an inspiring group of women film makers.
There was also a pink carpet with a backdrop including all the names of the sponsors of the festival which included Wells Fargo, Burke Williams, LunaFest, LA Weekly and others. Because of their sponsorship, 100% of the ticket proceeds went to the Susan G. Komen LA County chapter.
Diana Means opened the evening with a moment of silence for Elizabeth Taylor, a fitting tribute for a Women's Film. After her opening remarks she introduced the Director of the LA County Chapter of Susan G Komen, herself a many year breast cancer survivor.
And then we all got to watch Pink Skies on the big screen. We had just completed our original score so I was anxious to hear how that played out with and audience. I was just hoping people would enjoy the film. Many friends made the drive up from Perris Valley to support the film and see the results of our two year effort. Those included Melanie and John Peschio, Mary Tortomassi, Scott Smith, George and Angela Katsoulis, Rosa Alvah Justin and Kayla, the wind tunnel kids.
Our DP, editor and composer, Zac Heileson and his girlfriend Serena Foster came down from Salt Lake City. As did Associate Producer, Chelsea Earlewine and Michael Earlewine's parents. For Zac and Mike – who coproduced and composed the score and several of his songs, this would be the first time seeing the film with an audience. For Ruth Green, our opening scene skydiver, Jump For the Cause participant and breast cancer survivor, the trek was a little longer. Ruth and fellow skydiving friend, Brian Mason had made the trek all the way from London. Good friend and Pink Skies supporter BJ Worth joined us from Montana. In addition Stacy Malkan our expert on safe cosmetics, Dr. Swerdloff whom we covered in our section on Thermography and many other wonderful friends and family, also travelled near and far to be with us for this event.
I was so honored that so many people took the time out from their own endeavors to come to the movies and celebrate Pink Skies.
People seemed to really enjoy the film and sat attentively all the way through the credits, which I always appreciate. To me watching the credits in a film has always been interesting and a show of respect to the many hard working people that make a film. The standing ovation at the completion of the film almost brought me to tears. It's been a long road, one complete with pebbles and sometimes pot holes but always a gentle wind keeping me on course.
Pink Skies is finally generating some interest in the entertainment industry. I hope we will have some good news to share about distribution soon.
Thank you all for your support!
Gulcin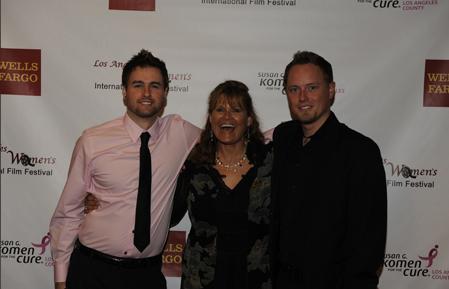 Michael Wine and Zac Heileson, co-composers for the Pink Skies score with Director/
Producer, Gulcin Gilbert in the middle on the "pink carpet" at the Women's International
Film Festival, March 27, 2011 in Hollywood, CA.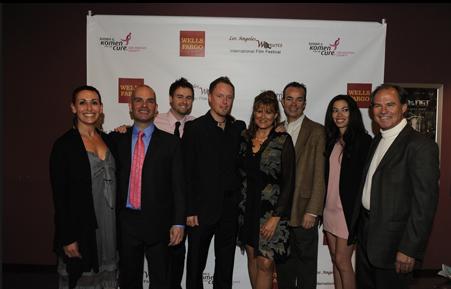 Angela Katsoulis, skydiving participant in JFTC, her husband George Katsoulis one of the Aerial Cinematographers for the film, Michael Wine, Zac Heileson, Gulcin Gilbert, Scott Smith, a JFTC coordinator and media advisor for Skydive Perris, Xahra Gilbert - Production Assistant and BJ Worth - United States Parachute Association Chairman and participant in Pink Skies.